Solid Walls demand much less memory from Javelin® than Wood Walls do. If you want to reduce your Javelin® file size, especially if you are doing large jobs (typically 10,000sqft and larger), you may want to try using Solid Walls in lieu of Wood Walls.
Pic.1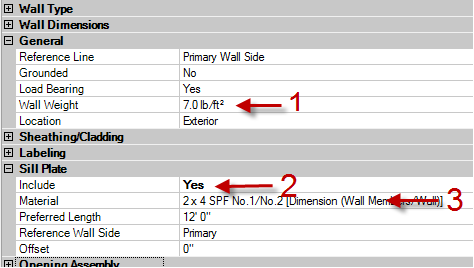 In order to properly use Solid Walls in the place of Wood Walls check these settings prior to input.
Wall Weight: Enter Wood Wall weight (*7psf typical) (1)
Sill Plate> Material: Select the appropriate Sill Plate size that is specified for the wood walls on the job (Pic.3)
Wall Weight: Enter Wood Wall weight (*7psf typical) (Pic.1)
Sill Plate> Include: YES (Pic.2)
For Flush Wall Conditions, Top Mount hangers can be specified when the Sill Plate> Include setting is set to Yes. Selecting the proper Sill Plate depth will ensure that the correct hanger options will be available upon connector design (ie. 4x sill plate when 3" nails are needed).
| | |
| --- | --- |
| If using the default Solid Wall schemes that come installed with Javelin®, be aware that the Sill Plate Setting comes defaulted to NO. Adjustments may need to be made. | |
| | |
IMPORTANT: In order for floor and roof members' correct required bearing length to be determined during design, the correct Sill Plate Size must be specified to support floor and roof members.