Capping Height for Beams
Ever need to specify a Beam that is not be the same depth as the Floor Container? You have probably noticed the Floor Decking will not find support from the Beam because it is unable to bear directly on the top of the Beam. Consequently, the Beam will also not get loaded correctly.
Pic.1
Out in the field a cap will be added to the top of the Beam to fill in this height difference. We can easily model this in Javelin® by using the Capping Height setting in the Beam's Property Grid.
Pic.2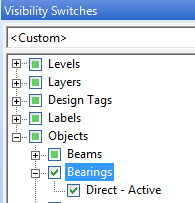 To do this first, enter the difference of the Floor Container and Beam depths' into the Capping Height field (Pic.1). Then turn on the Direct-Active Bearings symbol (Pic.2) to verify the Capping Height is correct. There should be one Direct Active Bearing shown in the center of the Beam (Pic.3).
Pic. 3


Note: Capping Height will not be an actual visible object in Plan or 3D Views.