Many common outdoor structures are simple in concept but require careful thought in their design to be functional and safe. Pergolas, sunshades and arbors are three examples of decorative yet functional structures that are pleasant additions to many residences. While you may ultimately want to engage the services of a design professional, the following information could be useful to get the project started.
Each of these is essentially a wooden overhead 'roof' type structure typically supported by posts. The framing is generally exposed to the weather and would need to be preservative treated wood such as Parallam® Plus PSL .
Design parameters may be quite different, however. Typically intended to provide solar shading around a pool or back porch, for example, pergolas and sunshades accomplish that task in many different fashions. Arbors are generally smaller in scale but meant to be vine covered. Each requires unique consideration to determine appropriate member sizes and connections.
Pergolas are typically slat topped structures with nothing more than dimension lumber slats supported at each end by beam members. The slats are generally 2x4 or 2x6 members with the wide face turned vertical. See Figure 1. They may be spaced anywhere from a few inches apart to 12″ or 16″ apart, depending on the depth of the slat used and the degree of shading desired.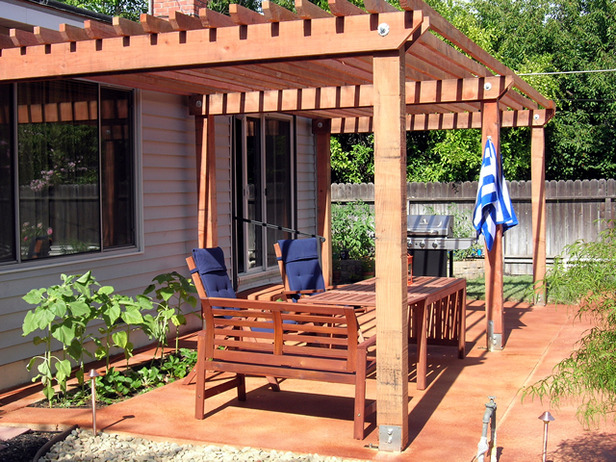 Fig 1. Pergola Example
To determine supporting beam and post sizes, the applied dead loading and live loading must be quantified. Dead loading is simply the weight of the materials making up the top structure. Live loading is more complicated and may be based on snow on the area 'density' provided by the slats or simply using a minimum area live load.
These slat type structures typically provide no lateral bracing for the top edge of the supporting beams. When designing those beams, the designer must account for this factor by basing the design on an unbraced length equal to the span of the beam.
Sunshades may be constructed using a wide variety of elements with varying design considerations. They typically employ a fabric layer which provides the shade, and that layer may be retractable or permanently attached. See Figure 2.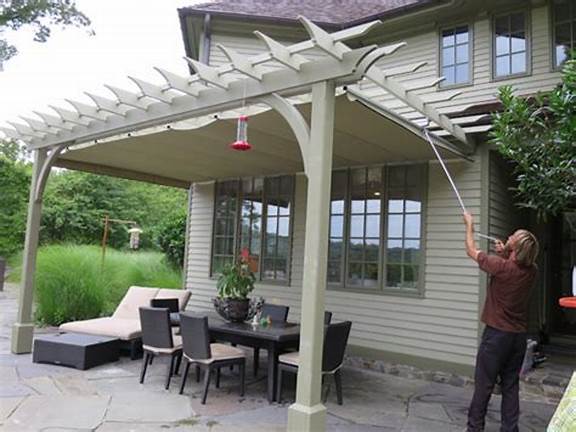 Fig 2. Retractable Fabric Shade
If the fabric is permanently in place, then the top surface acts more like a traditional roof in trapping snow and requiring snow design loading. If the fabric is generally retracted, then it's back to the basic structure parameters for load determination. As with pergolas, beam and post bracing must be considered.
Arbors may best be left to a design professional due to the potential complexity of determining appropriate design loading. Vegetation coverage may be very light to begin with but compound significantly over time. See Figure 3.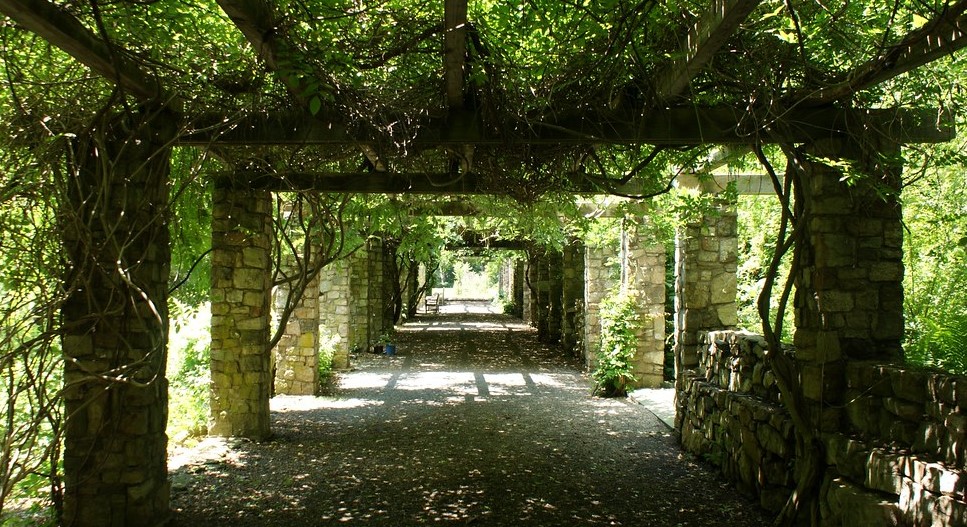 Fig 3. Vine Covered Arbor
One closing consideration relative to each of the typical structures mentioned above. As a 'roof' atop posts, bracing/anchoring the structure for overall lateral stability is a key concern to also be addressed.