TJI®Joists are occasionally doubled to support other members or loads from above. Depending on how the load is applied, it may or may not be necessary to connect the two joists together. For example, if the loading is applied from above, through a load bearing wall or post that rests on both joists, then no attachment between joists is needed. Each joist is being loaded from the typical floor/roof sheathing attachment. 
When a load is applied to one side of a double joist (by a header, for example), then the double joist must be connected together so both joist members are effective in supporting the load. Proper connection requires the gap between joist webs be filled with a "filler block" then the connection between the two joists made through the filled area. 

Detail H2 in TJI® Joist Specifiers Guide, (TJ -4000), shows the typical joist to joist connection details. Note that the filler and backer blocks are necessary only where the load is being applied to the side of the double joist member. If the double joist is supporting perpendicular framing along its length, then filler and backer blocks are needed at the load point locations along the length of the double joist. Depending on the spacing of the load locations, it may be more efficient to use a continuous length of filler and backer material instead of multiple short lengths. The required number of connectors must be installed at each load location.
Connection Detail for Side-Loaded TJI's (TJ- 4000 pg 27)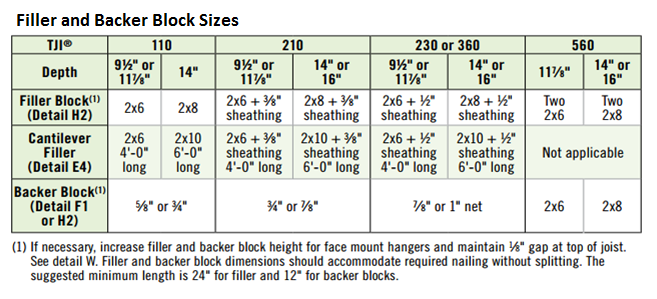 Refer to article Backer and Filler blocks 
In special situations triple TJI®Joist can be used, however it is highly recommended to avoid such applications due to the complicated attachment requirements. See our technical bulletin on 3 ply joists- TB 820